| | |
| --- | --- |
| I now feel that I am creating the pictures, rather than the camera | 25th Jul 2019 |
From our feedback form
Masterclass in Photography has...
Put me in control of my photography.
What are the differences before Masterclass in Photography & after?
I guess like the majority of people who sign up for the Beginners Course, I wasn't a total beginner. I was already playing around with all the settings covered on the course. But I had no real indepth understanding of why I was using certain settings, and although I had previously fluked some half decent pictures, it is pretty fair to say that I didn't really understand why I was getting those images.
I now feel that I am creating the pictures, rather than the camera. I still take plenty of uninspiring shots, or forget to alter a setting from time to time, but when I see the results, I realise pretty much right away what I did wrong, instead of scratching my head.
I bet a younger mind would have nailed it by now!
Is the course value for money?
The course is definitely value for money. I bet I watched literally dozens of videos on Youtube for free before signing up, and although they were always very informative, and often useful, the more structured learning techniques used in the course worked far better for me personally. There is a logical progression of thought which I just couldn't get through simply randomly surfing the information.
Would you recommend The Masterclass in Photography?
I would genuinely recommend the course. Mike's instructional technique works because it is simplistic, without being condescending. Although he is very careful to explain the all facts, it is done in such a way that is completely stress free. Almost like chatting with a knowledgable friend.
I thought I already had an idea about each stage as it appeared, but I followed the weekly "training schedule" as instructed, without the temptation to skip ahead, and lo and behold, at the end of each week I had actually really learned something! And one week naturally flows into the next, so the knowledge gained is all relevant. I just didn't get that from watching random "how to" videos.
Paul Ferns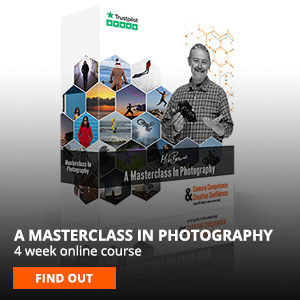 .