| | |
| --- | --- |
| I have already recommended Beginners Photography course | 13th Jul 2018 |
From our feedback form
Masterclass in Photography has...
Put me in control of my photography.
What are the differences before Masterclass in Photography & after?
I came with a solid technical base, now I understand histograms better. Composition was something I didn't fully understand, your Hands & Feet and Knees showed me what I was doing but I didn't understand I could do more.
The Masterclass in Photography is worth..?
The individual, I was attracted to your style and the course was right priced for me.
Would you recommend The Masterclass in Photography?
I have already recommended it to a fellow photo club member, he said he is interested in taking it.
Anything else you'd like to say?:
I have shot film since the late 60's, bought a D300 in 2008, and still shoot with one to day. Have presented at DSLR courses, I took the Masterclass in Photography Course to make sure I had not missed anything being self taught. I like your style and how the information is presented, I will be going back over it many time.
There are gems in there like you pressing the DOF preview button which I use all the time, and get push back when suggesting it's value to getting the right aperture.
Thank you for a great course, now the real work begins, experimenting, perfecting and improving my photography which already gives me much enjoyment.
Robert Nowland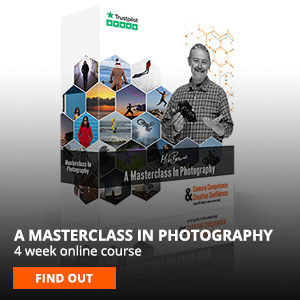 .