Re-sell My 5 Star Reviewed Online Photography Course
You earn 50% commission. Your friends / followers become better, more confident photographers
How It Works
We give you images and written copy you can customise appropriately
A unique link to attach to a 'Buy Now' button which tracks your sales
You endorse, share and promote your page to friends and followers
We share 50/50
Do People Like Masterclass?
A Fantastic Foundation
Really enjoyed the course. Masterclass was easy to follow, informative and I can see the difference in my photos already.
Thanks Mike
Mark Jasper
A Masterclass In Photography
I've just completed week 3 and wanted to say what an amazing course this is. Structured, informative, enjoyable and your presentation is so enthusiastic I'm motivated and enthusiastic to explore the exercises. Your lessons are making Photography so much more enjoyable.
David James
Mike Browne Instructor Extraordinaire ...
Mike teaches fundamental skills in a simple, thorough and cohesive way. His students are empowered to build a solid foundation for creating their own style.
He's not "just teaching photography" - he's inspiring artists.
Crystal Craig



Thank you, Mike
The most comprehensive yet easy to follow photography courses online!
Your videos on focal distance and depth of field helped me understand photography on a much deeper level.



Masterclass in Photography is a great course
Mike is brilliant in his teaching with easy to understand, practical step by step instruction. I have been "studying" photography for a few years now, but in these video lessons I have learned so much more than I thought I would.


Absolutely well worth the fee
I am a fairly knowledgeable photographer and thought I might not benefit from the 7 building blocks of photography... WRONG!!! It is outstanding from any other photography course and gives you a 'virtual' road map for every image.
Affiliate Examples
1: Instagram influencers The Tansey Family promote family life and values, related products, activities and hotels. Sam Tansey learned photography from me. Their message to their 72,000 followers is.
"If you'd like to take awesome family photos meet Mike Browne - the guy I learned from. With real life video lessons, exercises and a great sense of humour, his Masterclass In Photography online course ensures you can take photos everyone will love. You can even try a free sample..."
2: Emma administers a photography Facebook group and maintains a featured post that promotes Masterclass to members. Her affiliate link sends them to my website where they can try a free sample or buy the course. Emma receives 50% of the sale price.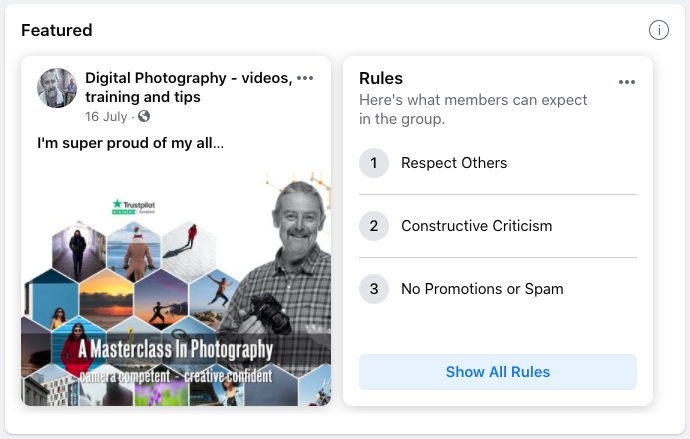 Become An Affiliate Re-Seller
Enter your details below
We'll email you your unique affiliate link
Copy any of the content below to help you
If you have any questions please get in touch via our contact page.
Best wishes...

---
A Masterclass In Photography - Content
Week 1: Cameras, Kit and The Art Of Exposure
Cameras & Kit (8 video lessons)
Art Of Exposure (8)
Support Notes & Exercises 1 - PDF
Searchable Contents Map - PDF (Premium & Ultimate)
Week 2: Superpowers and Creative Exposure
Creative Exposure Controls (7)
Exposure Masterclass (9)
Semi Auto Modes (12)
Support Notes & Exercises 2 - PDF

Week 3: Pin Sharp Pictures, Colour & Focal Length Magic
Pin Sharp Pictures (8)
Colours (4)
Focal Length Masterclass (12)
Support Notes & Exercises 3 - PDF
Week 4: Composition & Light
Composition (14)
Light (18)
Support Notes & Exercises 4 - PDF
Bonus Live Shoot Videos (up to 15 depending on package)

How It's Delivered
On completing checkout, we'll email you a receipt. A few minutes later you'll get a 2nd email with your private log in to our online training centre. You can change your password in your account if you wish.
Tutorials, downloadable notes and exercises are added to your account every seven (7) days to completion of the course. You can pause or speed up your course should you wish.
Promo Video 1
Embed: <iframe src="https://player.vimeo.com/video/566486515?h=61f8d1f52b" width="640" height="360" frameborder="0" allow="autoplay; fullscreen; picture-in-picture" allowfullscreen></iframe>
Promo Video 2
Embed: <iframe src="https://player.vimeo.com/video/566486448?h=95ce03c980" width="640" height="360" frameborder="0" allow="autoplay; fullscreen; picture-in-picture" allowfullscreen></iframe>