| | |
| --- | --- |
| This has been an excellent course to explain the basics | 31st Aug 2019 |
From our feedback form
Masterclass in Photography has...
Put me in control of my photography.
What are the differences before Masterclass in Photography & after?
Although I had some knowledge of aperture, shutter speed, iso etc., beforehand the course linked them all together in an understandable way. The exposure examples ("camera gets it wrong!") were really helpful to move from some rather grey photos to better ones. The shutter speed examples enabled me to get some better examples of flowing water. All together this has put me more in control of my rather complicated camera.
Is the course value for money?
As a camera novice taking up photography on retirement this has been an excellent course to explain the basics. The videos are really good and Mike & team have an excellent "style" which helps a lot.
Yes, Masterclass in Photography course is value for money - compared with the cost of a camera knowing how to use it and most importantly why the camera behaves the way it does.
Would you recommend The Masterclass in Photography?
Course puts all of the basics together in an easy and understandable way. The number and quality of the supporting videos and how they are presented is just amazing. The structured approach is just what I needed.
Tell us about your achievements & how you feel about them
I feel that I have learnt the why of the camera ... the next step is the why and how of photography especially composition, spotting photo opportunities.
I'm planning on travelling and really want to be able to take memorable photographs beyond the "snaps" I've done in the past.
Paul Roper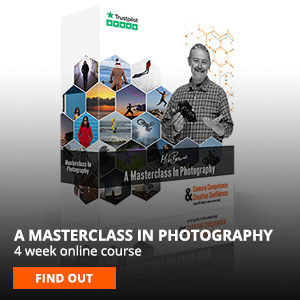 .