| | |
| --- | --- |
| I understand my camera settings. I understand metering, FINALLY | 22nd Apr 2020 |
From our feedback form
Masterclass in Photography has...
Improved my photos.
What are the differences before Masterclass in Photography & after?
I understand my camera settings. I understand metering, FINALLY, and how and when to shoot in manual and how and when to use which depth of field and focal length. I'm practicing regularly and enjoying it.
No longer frustrated because I come up with a picture and don't know how I did it - good or bad. I now believe I will get better at composition over time as I am able to focus more on that and less on the mechanics. Just as you said! :)
Is the course value for money?
Absolutely, and worth every penny. I have watched every one of your free videos (thank you), some more than once. I accumulated a lot of knowledge, a whole jumble of it - and that was the problem. The Masterclass in Photography course has given me a starting point allowing me to take small steps in making sense of it all.
Would you recommend The Masterclass in Photography?
Yes I would recommend this course for the reasons I gave above. Which translate into taking photos I'm satisfied with, proud of and don't mind showing other people.
Tell us about your achievements & how you feel about them:
Well, I have taken some decent photos and upload my first to social media! Truthfully, posting to the Masterclass in Photography group has taken a back seat to working on Photography Locked Down which I am finding extremely challenging, both the thinking up and the execution. But I know it is stretching me and I'm grateful for it. I will post more to Masterclass in Photography in future.
Anne Barton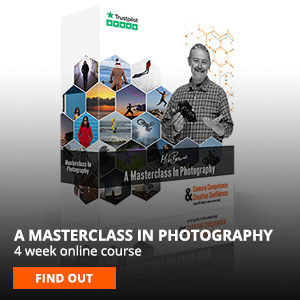 .