| | |
| --- | --- |
| I feel as if you're talking to me - one to one | 9th Dec 2020 |
From our feedback form
Masterclass in Photography has...
Put me on control of my photography.
What are the differences before Masterclass in Photography & after?
Masterclass in Photography is clear cut and understandable and explanations on subjects is very good and down to earth, without drowning us in the tech terms. I feel as if you're talking to me - one to one.

It's not you who need improving - I now have to convert things to my camera and get it to work because as so rightly said, they're all different. Without changing up to a pro camera, some things you teach I can't do eg long exposure, my aperture range is get this 3.5 to 10.1 max. It's not like the old film cameras that I disliked so much and they were costly to use. So what I got out of it was the how to do things like back lighting, composure of the scenes. The point is the more I think like you do the more I get right, instead of randomness.
The things you teach work and I stick with either aperture priority or presets, manual works but only if the light doesn't change too wildly. It's even got magnify mode in manual which I did not know about.
I have decided to make my own website to give away my images - friends and family want to see them since I left face book and google. Since doing the course its obvious that I have made improvements and I'm not just the average snapper, just in the way I work. It's composition, learning when and where to be (I even have my secret spots I don't tell people about to do photography in peace), with Covid 19 I'm finding people in all sorts of places just because they want space.
Is the course value for money?
To go over stuff as a reference yes - because at the start no way could hold it in your head, someone just has to talk to you or get you to take a shot or show you something and you have forgotten. Plus it throws you out your thinking.
I watch your mp4 because its about the subject mater and learning it and not your ego getting in the way like some videos do, they're just not good to learn from.
I'll still be look up stuff and going over it because unless you're doing it full time you get fussy on it. You have to ingrain it into you mind and to have some one who knows their stuff already is the best way. And as you say there are different fields I like the bird photography, some like buildings does nothing for me.
Basically I wanted to use the learning to be better at nature photography, the rules apply amature or professional you cant get away from it. I'll keep watching the videos even when I'm ill in bed. The more you think like it the more like ly you will do just that.
Would you recommend The Masterclass in Photography?
I do tell people about you , the professionals ask are you coming here to NZ or straight 'Where is he? I want to talk...'
It's viewed as remote learning and some people still like closer to home but Covid changed that a bit. I like your way because every one is equal and level playing field. So yes I will and do tell about you. My reaction is learn the camera first then go out there but only time and lots of practice will nail it. What lens you pick is important it decides the type of photography style, so I'm a 27m to 258 man.
Oh I forgot did you know a lot of places won't let you use a tripod because of triping hazard? So museums are out, and you have to ask in train stations as I was kicked out off, they want they own people only... You have to seek shots with a smart phone .
On the north shore people run for cover , in Auckland your just another tourist and they ignore you. It depends were you are really.
Kevin Morgan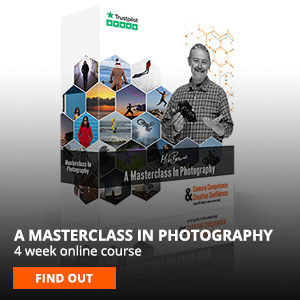 .