| | |
| --- | --- |
| Anyone could benefit from this beginners photography course | 25th Nov 2019 |
From our feedback form
Masterclass in Photography has...
Improved my photos.
What are the differences before Masterclass in Photography & after?
I've been shooting for a few years now but really struggled with some of the basics. Technically I had a grasp but artistically not brilliant. Hearing that it is ME that makes the photo changed how I create images. Gone are the days of snap shots.
Is the course value for money?
Mike, you do a wonderful job of presenting information in a way that seems like you are speaking directly to me. I don't feel like I'm just watching a lecture which I feel truly makes the information hit it mark with a lasting affect.
Would you recommend The Masterclass in Photography?
Absolutely I've watched a lot of you tube and have actually taken other online courses and none feel as personal to me. I honestly believe your ability to connect with your audience, even over the "pond" is a remarkable talent. Anyone could benefit from this course.
Tell us about your achievements & how you feel about them:
I don't share a lot of my work, it is still very personal to me. My greatest achievement, I feel my work has reached a point where I want to start to share it with others.
Rick Merryman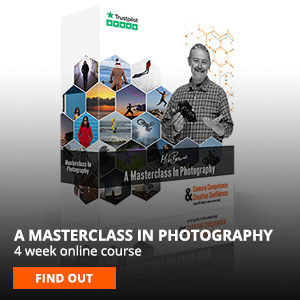 .