| | |
| --- | --- |
| After 7 Blocks I started thinking through the shots systematically | 1st May 2019 |
From our feedback form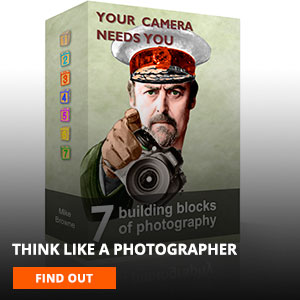 7 Building Blocks of Photography has ...
Massively improved my photography overall.
What are the differences before 7 Blocks & after?
In my middle age, I was looking for a new hobby. My wife and kids were very involved in local community theater, and they encouraged me to take part also. I thought maybe I could help with some pictures. After all, on family vacations, I had taken some nice "accidentals"; so, I volunteered to take some pictures for a show by a new theater. The pictures were useable at best but certainly not good, and I was embarrassed by their quality. Worse yet, I was not sure why they turned out like they did.
First step of course was to buy new camera gear, so I started doing research! My mind was quickly spinning with terms that were complete gibberish to me. Fortunately, I landed on your YouTube channel, which started to provide some sanity to the process.
I decided to buy your Masterclass in Photography, which really helped me understand my existing gear. The information also helped me research the photography requirements needed for shooting low-light, action-based live theater and musicals. I was able to make good investments in new gear instead of guessing. My pictures improved, but only in clarity. I still got some nice "accidentals" but also a lot of average shots.
Faced with the "camera doesn't take pictures" problem, I stepped up to 7 Building Blocks of Photography. Wow, what a difference it made to my mindset. Instead of shooting and hoping, I started thinking through the shots systematically.
Live theater still benefits from lots of shots to capture facial expressions, light changes, etc., but I now must choose between many keepers instead of hoping for one. I scout out theater locations and attend dress rehearsals prior to the shoot looking for angles, interesting lighting, depth of field choices, and iconic moments during the show.
7 Blocks has helped me "craft" better pictures to the delight of the cast and crew involved in the shows. I am no longer embarrassed but instead proud of delivering the edited images.
What is the course worth to you?
Well definitely more than the actual price (even in US $ :)). The course was an investment in my skills and confidence as a photographer. It will pay dividends for as long as I am taking pictures.
Would you recommend The 7 Blocks?
Anyone can take snapshots (some will be good too!), but this course helps you craft the picture you want instead hoping for the one you get.
Tell us about your achievements (Published / sold / 100s of likes etc.):
My photography is just a hobby and to support our local community theater. In the last year, the local theater has used me almost exclusively for their show promotions, head shots, and their live performances. My pictures have been posted all over their Facebook accounts getting many likes and comments. The pictures are displayed in the lobby and in the programs. The theater's upcoming printed brochure will be filled with the images I have taken this past year.
Maybe one day I will turn this hobby into a side business but for now, I volunteer for "kudos and cupcakes" (as my wife likes to say). The kudos come in from all directions, and fortunately for my waist line, the cupcakes have been limited!
Anything else you'd like to say?
Thank you Mike and your great team for the wonderful product and teaching. It has made a tremendous impact in my enjoyment of photography!
Alan Price