| | |
| --- | --- |
| 7 Building Blocks is highly recommended by me | 3rd Jan 2019 |
From our feedback form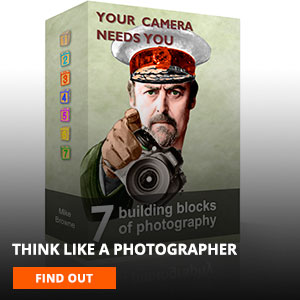 7 Building Blocks of Photography has ...
Improved my photography overall.
What are the differences before 7 Blocks & after?
I recently completed Mike Browne's 7 Building Blocks of Photography, How to Think Like a Photographer. This was a great course, as are all of Mike's courses. I am now on my 3rd course of Mike's and plan to take another one. I especially like the way Mike teaches---he teaches in a way that I can understand and therefore I can learn from him. His enthusiasm is second to none and keeps me interested. I have learned the art of "seeing" in this course, which has helped me greatly, and since I spend a lot of time in the outdoors, I now look at my environment differently as a result. I am thinking like a photographer. Mike emphasizes that the type of camera is not important, it is the person that counts. Highly recommended.
What is the course worth to you?
Definitely worth the price of admission.
Would you recommend The 7 Blocks?
This course is highly recommended. I spend a lot of time in the outdoors and this course has taught me to think like a photographer, which of course helps my photography greatly, but also taught me how to "see" and this point is useful in my outdoor activities such as hiking and backpacking, appreciating the outdoors more than ever.
John A. Koehm