Why improve your photography with us?
Good Question
Mike Browne
In my early 20s I was a keen hobby photographer, but I wan't very good at it! The journey from there, to having clients around the world today was certainly long - but very fulfilling.
I worked as a digger / truck driver until I one day one day I realised I hated my job, but didn't know what I wanted to do. So I packed in the job, sold everything and went travelling.
A life changing conversation in Africa lead me to return to the UK and become a photographer and I haven't looked back. For more of this story (and more) check out the 500 PX interview from Feb 2016.
Today I'm privileged to spend my time sharing my knowledge and helping photographers achieve their goals, dreams and ambitions.
It all began with a single eBook co written by Jayne Whitelock and myself. Today there are over 290 photography videos, workshops around the world, downloadable courses and more great photo training on the way.
I love the feeling when you guys and girls get that 'Eureka' moment and suddenly 'Get It' for yourselves. It's truly rewarding and inspiring to know I had a part in that.
I'm now ably assisted by Melissa Fox whom some may know from our Facebook page which she's managed since 2014. Melissa does 101 things from design work to customer support, webmistress-ing (if that's a word!!) and generally keeping me on track.

Mike's CV and Photography
Melissa Fox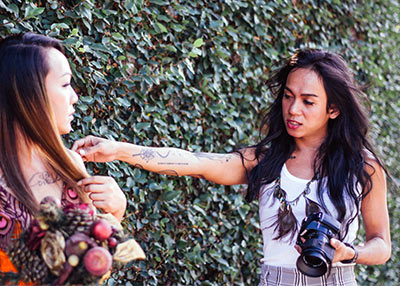 I wasn't the girl who played dress up and dreamt of a pink Barbie car. I wasn't even the girl who hoped for a life outside of a 10-6 job, even though I desperately dreamed of such.
I've lived my life carefully divided into parts between what was safe and secure (which landed me in computer school, holding my creativity in a box and stifling my soul), until I let myself dream.
After my mother passed away, she left me a camera. I unwrapped the box, but what I didn't realise then was that I also unwrapped my dreams. With no experience, no training, but a lot of heart, I set out to become a photographer... and that's precisely what happened.
I found Mike online in 2011 and it was like finding master 'Yoda' in star wars. I became his student and apprentice, I started helping out with the Facebook page in 2013 and quit my day job to become his PA in 2014.
I regularly judge our monthly photo competitions and write critiques for both winners and runners up. I'm overjoyed whenever I connect with the people around our page and see how it grows every day. For the first time in my life, I let my dreams steer me toward my hopes and it resulted in taking a risk I'm proud of.
Besides being Mike's PA, I'm a wedding and portrait photographer. I live in the Philippines with my dog, Aalee. I love to travel, document LIFE and be a part of something bigger than me.
Want to know a bit of the journey - visit the