| | |
| --- | --- |
| Your instructional videos are superb and so easy to understand | 11th Jul 2020 |
From our feedback form
Masterclass in Photography has...
Put me in control of my photography.
What are the differences before Masterclass in Photography & after?
I am 71 years of age and have been interested in photography since the age of 10 years. I have never been a member of a Photographic Society or Club and apart from reading about photography, basically self taught.
Now fully retired and having watched many of your instructional videos over and over again, I invested in your Masterclass in Photography. Wish I had done it before. I always need structure to improve which in turn builds confidence I want to take better photos not 'run of the mill'.
Is the course value for money?
As stated above, I think the Course is great value for money and if anyone is just starting this great hobby, they should also invest in the Masterclass in Photography.
Would you recommend The Masterclass in Photography?
Without doubt. Wish I had done so long ago.
Tell us about your achievements & how you feel about them
Due to lack of confidence, I have only taken photos for my own and family's viewing, therefore never ventured into competitions, publishing or indeed selling.
Anything else you'd like to say?
Dear Mike, keep up all the good work, all your instructional videos are superb and so easy to understand - the best on YouTube by far.
John Brackpool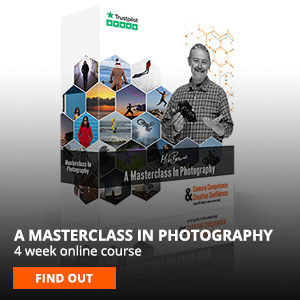 .