Vietnam 'Heaven & Earth' Workshop
4th - 11th Oct 2018:
"Heaven and Earth" - Far North Vietnam adventure travel photography
4th to 11th October 2018 - 8 days / 7 nights
In association with Aperture Asia
6/12 PLACES BOOKED
Who's it for?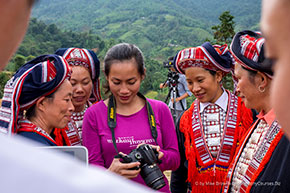 The Vietnam workshop is suitable for all levels of photographer wanting to learn and enjoy a unique travel experience. We'll be travelling through stunning mountain vistas, deep valleys, narrow canyons and meeting colourful hill tribes in a region relatively untouched by tourism.
There are regular opportunities to develop your images and get feedback so you can track your progress. Tuition and advice will be given on location so you'll learn loads, dedicate time to your photography and have an amazing adventure.
If you love landscapes, photogenic people and have a sense of adventure, our Vietnam 'Heaven and Earth' photo workshop is for you.
Where are we based?
We begin in Hanoi and will be staying in various hotels as we travel through the region. Mass tourism has not reached the far North and hotels range from 4 star and basic hotels, to 'Homestays' in the mountains. Homestays are a Vietnamese version of a European Bed & Breakfast.
'Classroom' feedback, tuition, image processing and critiques are given frequently either at our hotels or in cafes / restaurants along the way. We have air conditioned mini busses and English speaking local guides with us at all times.
Because tourists rarely come here it's completely un-spoilt, the people welcoming and friendly. We visit and shoot in H'mong villages, Black Dzao and Nung tribes where you'll get stunning images of daily life and an insight into this beautifully mountainous and rural area. Nothing is ever too much trouble and people are happy to be photographed.
Locations and opportunities Include (but are not limited to...)
More photos in gallery below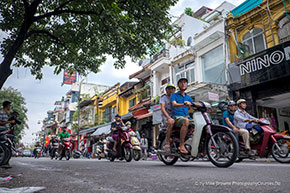 Hanoi: A big bustling city. Small scooters are used to transport everything and everyone everywhere. It's crammed with them. Whilst we're not spending much time in Hanoi, if you have an additional day here waiting for flights you won't go short of things to photograph.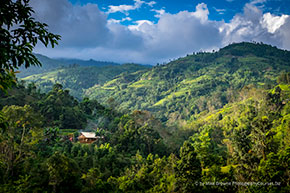 Munong Khuong to Cao Son: The road through the mountains is packed with scenes like this. When the sun breaks through clouds and highlights the rice paddys, it's a landscape photographer's dream come true.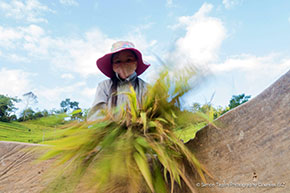 Chay River Valley: Farmers harvest rice by hand and thresh the grains into carts and barrows right there in the fields by the roadside. They are happy to be photographed and you can let your creativity loose with low angles and maybe even shooting from inside a threshing barrow as Simon did here.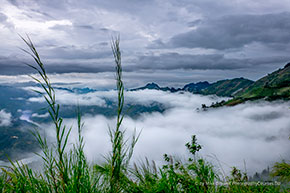 High Mountain Roads: We'll be travelling some high passes at around 950 metres. At times that puts us above the clouds with spectacular views down river valleys.
We rounded a bend out of the trees and this image was literally taken by the side of the road.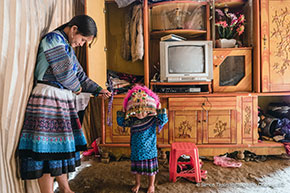 Village houses: In the villages we visit, people are happy for you to enter their homes to see and photograph how they live. The floor may be earth but always remove your shoes before entering.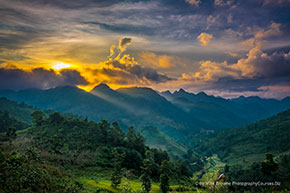 Hoang Su Phi: A district of Ha Giang Province which lies between 2 high ranges of mountains. The scenery is composed of stunning mountains, deep valleys, narrow canyons which do any sunset justice.
What will I learn?
We will be coaching you on all aspects of travel photography from street life to portraits, landscapes to reflections and food. There will be regular feedback sessions when we develop our photos as well as on location mentoring on any and all aspects of travel photography.
Planning and learning the thought process of photography is vital for any genre. I call these the 7 Building Blocks of Photography and they are common to all cameras and photographic situations. You may have heard of this course and we'll be using techniques and process from it throughout the workshop.

Your Guides and Tutors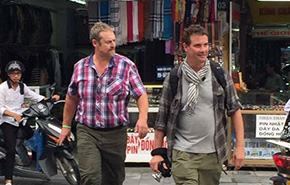 Simon Taplin (right) began his career in London, where he worked with some of the finest commercial photographers from whom he gained holistic knowledge and skills across extensive areas of photography.
Moving to Asia in 2002, he worked for Shooting Gallery Asia, one of Southeast Asia's premier photography studios where his skills were sought by the world's leading advertising agencies including JWT, Saatchi & Saatchi, Leo Burnett, BBDO and Corbis.
His client list includes Unilever, P&G, Nokia, Cathay Pacific, Qatar Airways, Singapore Airlines, MasterCard and Heineken. Simon works with Corbis images and as a global assignment photographer for Getty images.
He has a quick witted sense of humour and is an expert on Asian gastronomy so he knows what's good to eat too.
Mike Browne (left) is a TV and Youtube Photography guru with @15 million views. Ranked by Petapixel in their top ten best photography educators, Mike's approach focuses on training the photographer to pre-visualise the image they want, then think through the steps needed to achieve it in camera.
Mike runs photo workshops and training around the world and his photography / consultancy clients range from private individuals to companies such as Jet Aviation in Switzerland who design and build luxury private jets. He has awards Kodak, Fuji and Master Photographers Association; made promotional films for Pentax, Samsung, Olympus and Tamron and written for several of the UKs leading photography magazines.
He is addicted to motorcycles and may try to convince you to try eating fermented shrimps which are an acquired taste ... ;-)
Getting to Vietnam
Hanoi is a major city with plenty of road and rail links. Noi Bai International airport has direct flights from around the world. Visas will be required.
Accommodation
Accommodation for the duration of the workshop is included in the price. If you wish to stay a few nights before or after, please make your own arrangements as these are not included in the tour price.
Food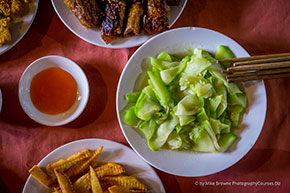 Vietnamese food includes meat, fish, noodles, rice and plenty of vegetables. In the rural areas where we are going it is always freshly prepared, cooked to order and is superb. The only 'dodgy tummy' experience I had was from a small hotel restaurant in a city.
The meal pictured here I shot in a homestay in a small mountain village and it is one of the tastiest meals I've ever enjoyed.
What's included?
Please download an itinerary for all the information
How much?
$4900 USD (Includes single supplement)
$4700 USD Twin share with a friend
A percentage of profits goes to sustainable local development.
Bring Your Non Photographer Partner
We know many photographers would like to bring their non photographer partners to share the experience, so we have 3 non participant places available at a discount from the full twin share cost. Partners are invited to accompany us on all location tours at no additional cost, explore on their own or relax at the hotel.
Non photographer partners: USD$4320 (£3250 approx)
Details in the itinerary. Classroom tutorial sessions are for full participants only.
Booking Deadline - 1st July 2018
Please pay a deposit now to secure your booking, or in full if you prefer. (More info on the next page)
We will contact you 1st July 2018 (or sooner) to confirm the tour so you can make travel arrangements.
If we do not have minimum 7 confirmed we will refund your deposit / fee in full.
Please DO NOT make travel arrangements to Vietnam until we confirm on 1st July
To help ensure the workshop is confirmed sooner rather than later, please book now.
Deposits will be refunded in full in the unlikely even of cancellation, so you have nothing to lose.
If you'd like to speak to me, leave your details and I'll get in touch.
Vietnam Travel Photography Adventure

4th - 11th October 2018
USD $4900 USD inc single supplement
USD $4700 USD twin share
USD $4320 Non-photographer participant
More information on the Booking Page
Mike Browne Photo Workshops on

(all images by participants)