| | |
| --- | --- |
| The beginners course made me feel I was supported in everything | 13th Dec 2018 |
From our feedback form
Masterclass in Photography has...
Made a huge difference to my photos.
What are the differences before Masterclass in Photography & after?
Before the Masterclass in Photography Course I did'nt have any sort of system, now after, I can look and think a lot better about what I am doing when I take my camera in the hand.
Is the course value for money?
Yes, as I was doing this beginners photography course I always had the feeling that I was being supported in everything. The exercises and videos were clear and very helpful. It was as if you and your team were standing next to me.
Would you recommend The Masterclass in Photography?
Yes I would, it explains everything clear and in a way that a person can understand what is happening with the camera and yourself.
Anything else you'd like to say?
Thanks, thanks and once again thanks to you and your team - YOU ARE GREAT.
(I lived about 9 years in the near from Poole before I Joined the Army so it was nice to see bits of the near coast)
Colin Daulby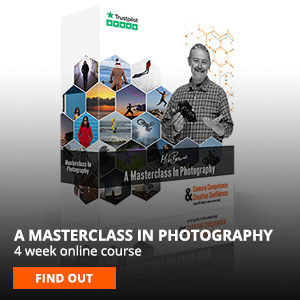 .