| | |
| --- | --- |
| This course has enabled me to be confident in my camera settings | 29th Oct 2019 |
From our feedback form
Masterclass in Photography has...
Put me in control of my photography.
What are the differences before Masterclass in Photography & after?
Before this course, I spent too much time choosing settings, and not enough enjoying the experience. Often getting them wrong and not knowing why. This course has enabled me to be confident in my camera settings and has freed up my time on the creative side of photography making the photography experience a real joy again.
Is the course value for money?
Yes. The cost of the course is about right. It is difficult as a starter to know if a course will suit you or the tutours style will suit you. At this price, the risk is worth the cost.
Would you recommend The Masterclass in Photography?
I would recommend the Masterclass in Photography because the pace of the course over the 5 weeks is good. Mike's style is relaxed, informative and well presented, but as long as you put in the few hours a week I don't see how you could not get a lot from the course.
Tell us about your achievements & how you feel about them:
My reason for the course was to improve for myself. I often get good images, but had to take lots of shots to get a few good ones. My consistency has now gone up. Although I do upload photos to ClickASnap and photoblog this is secondary for me at the moment.
Getting images good enough to get enlargements printed to hang on my walls is a real joy. (ok and I must admit when someone compliments me on the photo it is a great feeling...)
David Nurse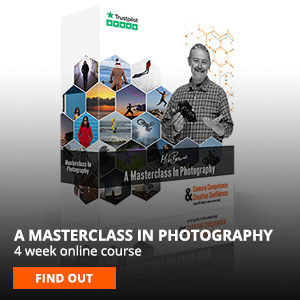 .