| | |
| --- | --- |
| There is plenty of content, which of course can be reviewed at any time | 18th Aug 2020 |
From our feedback form
Masterclass in Photography has...
Given me confidence.
What are the differences before Masterclass in Photography & after?
I've toyed with photography for some time, without ever really getting the results I felt I should. The Masterclass in Photography confirmed to me some stuff I already 'knew' but explained to me how and why it worked, it also gave me plenty of 'oh, so that's how you do it' moments! As a result I feel I have a stronger base knowledge, and have more confidence that the shot I take will be somewhere near what I am trying for!
Is the course value for money?
There is plenty of content, which of course can be reviewed at any time. I feel the course is money well spent - especially when you see the price of some other courses out there.
Would you recommend The Masterclass in Photography?
The course is delivered in Mike's easy going, friendly style, that anyone who has seen his YouTube videos will recognise. It's well structured, and comfortably leads you from one topic to another. I would certainly recommend it for beginners, or anyone who perhaps doesn't feel confident with the base blocks of photography.
Anything else you'd like to say?
Thanks for providing the course. All the bonus content / extra tips were much appreciated.
Ian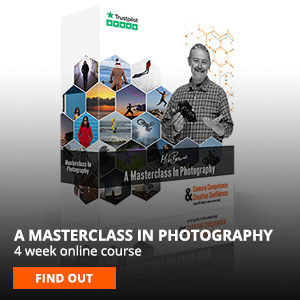 .