| | |
| --- | --- |
| " The 1-2-1 course was both entertaining and informative and I'm so glad we did it " | 22nd Jan 2010 |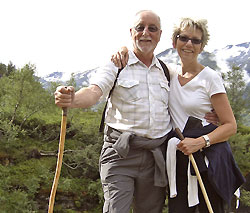 Hi Mike

Firstly, many thanks for your recommendation to The Mill. We thoroughly enjoyed it. Super room and a cracking meal on Wednesday evening - although both of us were absolutely kn.....ed! We would certainly go there again.

Secondly and more importantly, we both so much enjoyed the 1-2-1 course with you. It was both entertaining and informative and I'm so glad we did it. Without a doubt we shall certainly think seriously about shooting in RAW and using Lightroom.
Everything I learnt was invaluable especially now that I can tell the difference between points and percentages! Having read through my notes, there is so much now that makes more sense to me and I shall spend the next couple of months practising! Thank you also for lunch.

I have clicked on the link from your last email, and so shall look forward to receiving tips, etc. In the meantime, both of us wish you and Jayne so much luck both personally and professionally - we so much enjoyed meeting you Mike, and we hope you will like the attached photo of you and your surrogate dad which will remind you of your day with a couple of old wrinklies!

Best wishes
Jenny and Michael Jones

Comments
No posts yet, please be the first!