| | |
| --- | --- |
| It really does show you how to 'boss' your camera around and not vice versa! | 31st Mar 2020 |
From our feedback form
Masterclass in Photography has...
Put me in control of my photography.
What are the differences before Masterclass in Photography & after?
I've been doing Astrophotography for 10years with my Canon 600D and haven't changed the settings in all that time.
I decided to have a go at conventional photography and realised I hadn't got a clue. I looked at a few YouTube videos and still didn't have a clue so I opted for your basic course.
Is the course value for money?
Very much so, it's the price of a lunch for two at our local posh cliff top hotel and worth so much more than that as it gives you a skill for a lifetime.
Would you recommend The Masterclass in Photography?
Yes because providing you follow the steps carefully it really does show you how to 'boss' your camera around and not vice versa!

Tell us about your achievements & how you feel about them:
I am able to take photos with purpose and imagination.I am fortunate to live on the South Cornish coast and the potential is unlimited.
Tell us about your achievements & how you feel about them:
Unfortunately as I am, like us all, incarcerated - this shot was taken from my terrace and is unedited, there is a lot wrong with it but I am very pleased at my progress.
I have no 'before' shots as I tend to delete practice shots as I go along, I can't wait to get out of prison and start stalking the cliff paths and beaches.
Anything else you'd like to say?
You have an excellent style of educating and entertaining at the same time which makes the learning process a lot more pleasurable.
Well done!
Charles Lund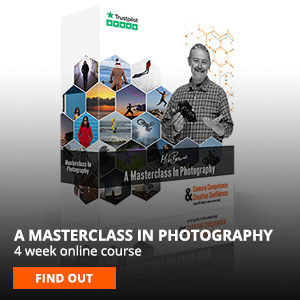 .