| | |
| --- | --- |
| I really appreciated the sense of empowerment from learning 'with' Mike, rather than being front loaded | 18th May 2020 |
From our feedback form
Masterclass in Photography has...
Given me confidence.
What are the differences before Masterclass in Photography & after?
I've been on a course before, so manual settings weren't new, but with the Masterclass in Photography it started to come together more coherently. Following up on specific challenges, combined with more practice - arguably a result of spending longer on each 'module' than was intended - has led me to a greater understanding of the various settings, a greater certainty of what might work, and even a hint of creativity. (Photography Locked Down has played a part here, too - what a great idea.)
Is the course value for money?
Yes! It was a Christmas present, but I wouldn't hesitate to have forked out for it myself.
Would you recommend The Masterclass in Photography?
Absolutely. I really appreciated the sense of empowerment from learning 'with' Mike, rather than being front loaded. I also liked being able to practise at my own pace. This may be a six-week course but I happily spun it out over much longer - moving on when it worked for me.
Anything else you'd like to say?
Thanks, Mike - now what shall I do next?!
Tricia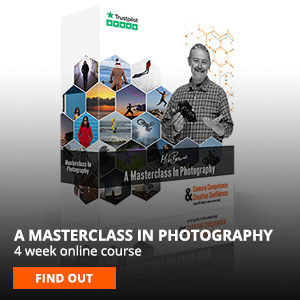 .