| | |
| --- | --- |
| I can now go out with more confidence in taking photos | 21st Sep 2020 |
From our feedback form
Masterclass in Photography has...
Given me confidence.
What are the differences before Masterclass in Photography & after?
Before I started this course I had a very basic understanding of how to use my DSLR. now I have a better understanding of not just the controls but histograms, lighting and white balance.
Is the course value for money?
Value for money? Of course it is right from the get go. I felt relaxed and could learn at my own pace. Mike explains things simply and easy to understand. I had penny drop moments that made things make sense.
Would you recommend The Masterclass in Photography?
I would certainly recommend this course to anyone learning photography or to get a better understanding of there equipment.
Anything else you'd like to say?
I would like to thank Mike for this course and for helping me get a better understanding of photography and camera usage. I can now go out with more confidence in taking photos. I look forward to taking my photography to the next level.
Thanks and kind regards.
Philip Benbow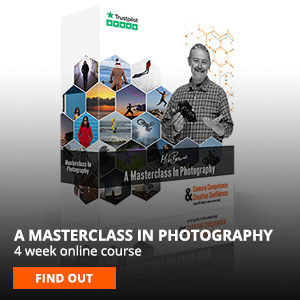 .