| | |
| --- | --- |
| Beginners Photography course has kick started me back into the 21st century | 8th Jul 2018 |
From our feedback form
Masterclass in Photography has...
Given me confidence.
What are the differences before Masterclass in Photography & after?
I look at things like composition and lighting differently now, plus what obscure subjects might actually be worth a try at taking a picture of.
The Masterclass in Photography is worth..?
It is. It's given me confidence and a better understanding about my picture taking.
Would you recommend The Masterclass in Photography?
Like I mentioned about the confidence bit and for someone like me who used to be into film photography, it'll help kick start them back into the 21 century of digital.
Tell us about your achievements & how you feel about them:
I'm still trying to find myself and which way I want to go, a work in progress.
Anything else you'd like to say?:
I bought a DSLR and had been poking around the internet and stumbled upon some of your videos on YouTube or where ever. I found you to be easy to listen to and understand, you seem the kind a fellow I'd see myself sitting down for a beer with - that's why I haven't done any other online training, no-one else has really interested me.
Dale Aylward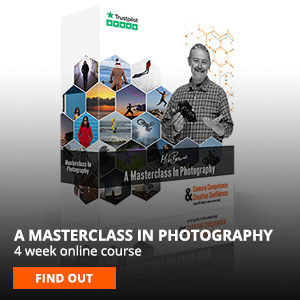 .