| | |
| --- | --- |
| Your videos are good and I really REALLY appreciate the chit chat and narrative | 30th May 2020 |
From our feedback form
Masterclass in Photography has...
Put me in control of my photography.
What are the differences before Masterclass in Photography & after?
Afterwards I am very confident taking pics in manual mode.
Is the course value for money?
I have significantly improved and have more confidence so how can it not be value for money?!
Would you recommend The Masterclass in Photography?
Yes. And have done so several times already.
Tell us about your achievements & how you feel about them:
I haven't taken any great pictures yet but that's me not the course or my kit. I'm just not very creative or patient (and I've been super super busy so I've been doing this in fractured quarter of an hours). The camera is new to me so I am fumbling my way around is 5-layer deep settings (possibly regretting getting such a sophisticated camera) and I have an array of lenses so I'm also trying to understand all that too. I am full of experiments and I'm very happy just doing that because I am now on a good path and I see my pics improving (and also my eye becoming more discerning with other people's photos).
Anything else you'd like to say?
Just thank-you. Your videos are good and I really REALLY appreciate the chit chat and narrative because you give away a lot of info in that especially for beginners when EVERYTHING is new, mysterious and unconnected. Sometimes it is just a little throw-away line that makes you think "ah yes, that's why you do that, now I get it" or it cements something you are trying to lock into your head. This is the value of video over just written stuff.
Angela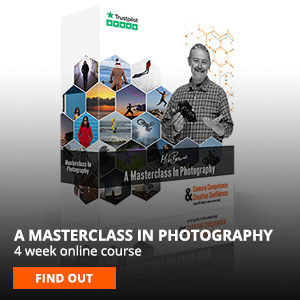 .