| | |
| --- | --- |
| Masterclass in Photography made me ask myself the right questions when things went wrong | 2nd Nov 2017 |
From our feedback form
Masterclass in Photography has...
Put me in control of my photography.
What are the differences before Masterclass in Photography & after?
Before the Masterclass in Photography Course I had a confused misunderstanding of what my camera could do and although I had tried to demystify what I was doing, I was getting frustrated and disheartened.
This course put me in control and made me ask myself the right questions when things went wrong. I am taking my time and revisiting the exercises, I have not completed 5 and 6 but look forward to them in the next few weeks. Which course would you suggest next? I have light room but have no idea what to do with it, my husband bought it for me for Christmas.
I intend booking one of your day workshops in the spring.
The Masterclass in Photography is worth..?
Without it I would still be getting frustrated and probably stick in auto mode.
Would you recommend The Masterclass in Photography?
Yes I already have recommended the course.
The tutorials are clear and welcoming, they don't make you feel like an idiot for not understanding and put everything in a no-nonsense fashion.
Anything else you'd like to say?
I had to chuckle when watching some of your Cambodia live videos, you were saying how wonderful the skies were and the red soil and the water buffalo... Well we have wonderful skies, red soil and water buffalo, if you ever want to check it out come to Monmouthshire!
Jo Jump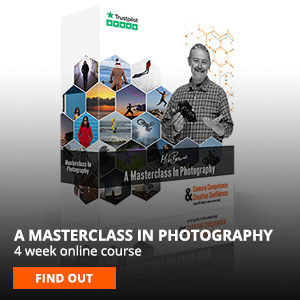 .