| | |
| --- | --- |
| Since the beginners course I have learned the controls on my camera | 6th Nov 2018 |
From our feedback form
Masterclass in Photography has...
Given me confidence.
What are the differences before Masterclass in Photography & after?
Since studying the Masterclass in Photography Course I have learnt a lot, especially the funtions and controls on my camera.
Is the course value for money?
I would say the course is value for money, as it is well presented and very clearly explained.
Would you recommend The Masterclass in Photography?
Yes I would, as Mike is a very good teacher, who explains everything so clearly.
Anything else you'd like to say?
I would like to say that I have really enjoyed this course. Mike always explains things so clearly and in a way which is easy to understand. I have only one thing to say, which I wasn't too happy about.
Before I enrolled on the course it said it could be done on a mobile, which I have been trying to do.
I can only watch the videos and open the PDF files. Despite installing lots of versions of WinZip, I could not open any of the zip files throughout the course. I would really like to try the 7 steps course, but am hesitant, as I worry I might miss a lot, if there are too many zip files.
Thank you Mike for making this course so enjoyable and helping me understand photography more.
Paul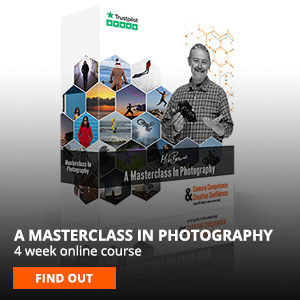 .