| | |
| --- | --- |
| Love your course Mike and your explanations! You don't make me feel incompetent | 4th Aug 2020 |
From our feedback form
Masterclass in Photography has...
Made a huge difference to my photos.
What are the differences before Masterclass in Photography & after?
I now have the basics of photography, in my brain, on my phone and i am still working on it. Also I am really enjoying it and am going out shooting pictures as a new hobby
Is the course value for money?
Definitely worth the money. I didn't know anything about photography but I wanted to start to learn. My sister who is a good photographer recommended Mike's videos. I loved them and wanted to have a better understanding of the things I really needed to know. Now I have them.
Would you recommend The Masterclass in Photography?
Yes , I already have to a few friends. It taught me how to handle a camera, how to get going and due to the follow up emails Mike sends continue
Anything else you'd like to say?
Tell us about your achievements & how you feel about them: I now have an eye for taking a picture and what I want in the picture. Also continuing to develop the skill of taking it.
Anything else you'd like to say?
Love your course Mike and your explanations! You don't make me feel incompetent.
Thank you so much.
Shona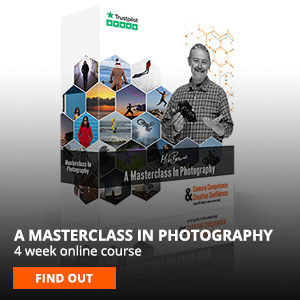 .