| | |
| --- | --- |
| Now I'm happy with changing apertures, ISO's and even white balance | 26th May 2020 |
From our feedback form
Masterclass in Photography has...
Made a huge difference to my photos.
What are the differences before Masterclass in Photography & after?
I was struggling with the settings on my D7200. I was over and under exposing,the depth of field was hit and miss. Now I'm happy with changing apertures, ISO's and even white balance. it is going take a lot more practice to become confident, but I'll get there.
Is the course value for money?
During this time of lockdown its been an absolute Godsend. As a recent full time carer it has really kept me sane! so as far as I'm concerned it has been exceptional value for money.
Would you recommend The Masterclass in Photography?
You bet I will - I still keep revising.
Tell us about your achievements & how you feel about them:
Being a retired plumber/ College lecturer I'm not an artistic person at all. I now find I'm taking far more pictures that I actually like. I'll bring my laptop on the 27th June to the beginners workshop hopefully.
Anything else you'd like to say?
I can't get my files small enough!
I have really enjoyed and learn't a lot from your Youtube videos as well. The quality of work sent in to Photography Locked Down has been amazing. One day eh!
Many thanks.
Mike Sims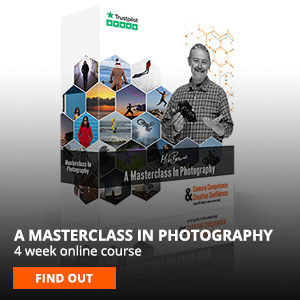 .