| | |
| --- | --- |
| I recommend Masterclass in Photography to novices and to people like myself who need to consolidate knowledge that they have attained | 25th Apr 2020 |
From our feedback form
Masterclass in Photography has...
Given me confidence.
What are the differences before Masterclass in Photography & after?
I had been taking photographs for a while before purchasing this course but never found things totally clear in my mind. Since starting the Masterclass in Photography and watching numerous videos of yours on You Tube, things are now beginning to become clearer and have given me more confidence to push on.
Is the course value for money?
For me it has been definitely money well spent as I felt it was important not to jump in at a higher level before ensuring I had a complete understanding of the basics.
Would you recommend The Masterclass in Photography?
I certainly would recommend this course to total novices and to people like myself who need to consolidate the knowledge that they have attained over time.
Tell us about your achievements & how you feel about them:
I have been posting some images on Instagram for family and friends to see with numerous likes.
Anything else you'd like to say?
A big thank you to Mike for his excellent teaching style. I will be certainly purchasing another course very soon.
Bob Kennedy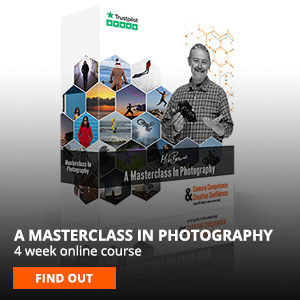 .