Photo Biker Workshop - New Forest
3 days / 4 nights 18 - 22 September 2023
£1475 per person - 8/8 places left
18th September: Arrivals
19, 20, 21st September: Photo rides
22nd September: Departures
I've lived, ridden and photographed in the New Forest my whole life and trust me, with it's beautiful coastline, open heaths, windy back roads through woodland and rural villages, it's an awesome place to ride, explore and shoot.
It's also the perfect base for exploring other nearby areas of outstanding natural beauty such as The Cranborne Chase and South Downs - which is exactly where we'll be going on this workshop.
Rides are leisurely with many photo opportunities along the way. The intention is for you to have a great time, explore beautiful new motorcycle rides in like minded company and learn how to capture the best possible images of your journey along the way.
Want some cool pics of you and your bike?
Obviously I'll be coaching and helping you get the very best photos and memories of your travels. But I also want you to be able to shoot great images of bikes on the move. We'll take turns shooting and being the 'model' so you get to take away a load of pics of you and your bike, looking every inch the hot property you are.
Where we're based - and where we're going
We'll be staying in Lyndhurst, ancient capital of the New Forest with daily ride outs of approximately 100 miles each to three different areas of outstanding natural beauty. We'll return to our hotel each evening.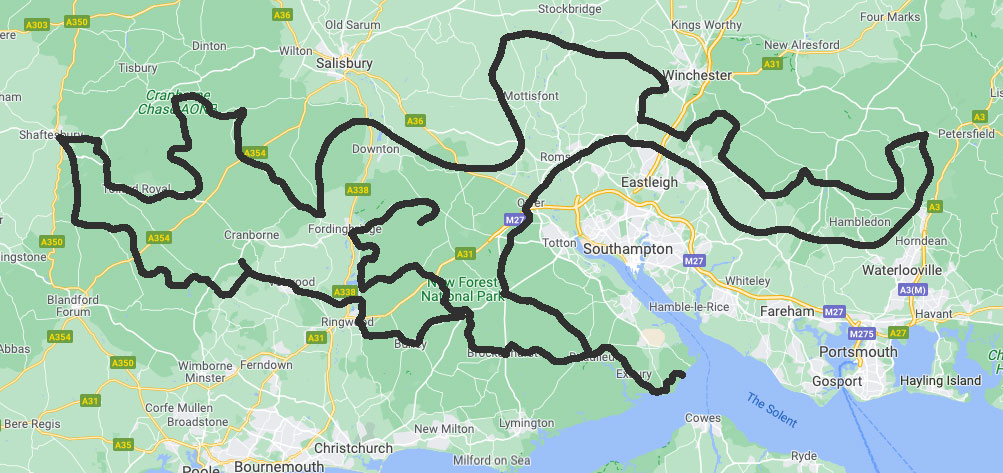 This is an outline of the fantastic areas we'll ride, explore and shoot together. It is not our exact route.