| | |
| --- | --- |
| Photographer embraces Victorian techniques to great effect | 10th Dec 2009 |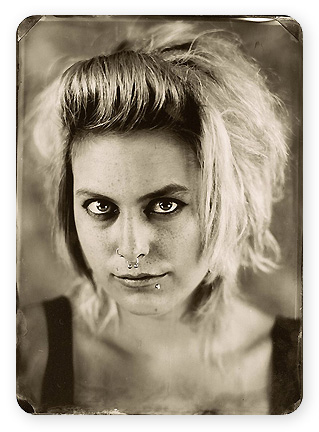 A Welsh photographer, Richard Cynan Jones, has turned his back on DSLRs and intricate modern camera lenses to embrace techniques developed in the 1850s.

The black and white photography portraits he offers can be far from flattering, he admits, but he adds that he likes the charm of the "warts and all" pictures. Although he adds, "it takes a brave individual to commission a portrait."

Jones uses bulky box cameras loaded with wet glass plates and explains that the whole process is much more complicated than modern photography.
He says, "you can't see something and say 'I'll take a picture of that', you have to think about it. The whole thing takes longer. You can only estimate the exposure after taking a 'dummy' plate, and depending on the chemicals it can take 10 to 15 minutes to develop each plate."

As a result of the considered and time-consuming nature of these old techniques, they are far removed from the immediacy of digital photography.

The person posing for the photo must stay still for up to 30 seconds for the picture to work. Jones also explains that it is expensive to purchase the original camera lenses that award a slightly ethereal appearance to the outer edges of the pictures.

Despite the effort and expense, Jones says he will continue to use the old techniques and learn more about Victorian photography.
If (unlike Richard) you'd like to improve your own digital (or even film) photography. Our Masterclass in Photography is tailor made for your needs and interest. And our photography course downloads are great for beginners and budding wedding photographers too.