| | |
| --- | --- |
| New photography craze sweeps the globe | 24th May 2011 |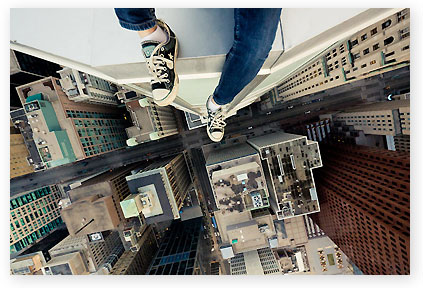 Our photography courses and photography videos can help your photography - but you need a head for heights before trying this.
A travel photographer has been taking photography to new heights - literally - after starting a new trend known as rooftopping.

Tom Ryaboi has travelled the world, hanging off some of the highest buildings in a bid to achieve "the ultimate rush" and snap the ultimate photo.
Ryaboi races to the top of the skyscrapers, shimmies along to the edge and hangs off the edge to get the shot.

"When you climb to the top of a skyscraper and open its hatch for the first time, a pure rush of adrenaline hits you as you overlook the city from above.

"There is a group of very dedicated individuals who will not rest until they are able to stand on every roof in the city and call it theirs, even if it's just for a minute or two," he told the Daily Mail.

Ryaboi started the rooftopping craze by scaling the skyscrapers in his hometown of Toronto, Canada, and puts it down to a fascination with height and the different views one can have of the world from an unusual vantage point.

"To this day my father often likes to tell the story of when he came home for work one day, my mother was already at home, and I was sitting on top of the fridge looking down on both of them.
I was almost two years old then and they are still trying to figure out how I got up there. Here I am, 25 years later, still trying to sit on top of the tallest things I see," he laughed.

The dare devil admitted that his unusual hobby was 'quite addictive' and urged everyone to 'get on a roof and discover it for yourself.'
Join us on...