| | |
| --- | --- |
| Teesside University launches campus with photography competition | 16th Feb 2011 |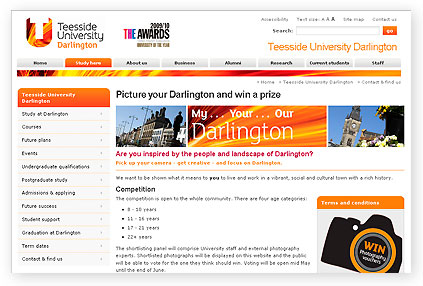 Teesside University ­ which was voted university of the years 2009/10 - has launched a photography competition to celebrate the opening of its new campus.
(If you'd like to brush up on your skills to enter - take a look at our photography videos and photography courses - they could give you confidence and possibly an edge!)

The university decided that a photography competition would highlight the very best elements of the area and would be the perfect way to mark the opening of the £13 million Darlington campus, in Haughton Road, Darlington.

The competition is open to amateur photographers across four age categories who live, work or study in Darlington. Images should aim to show just what the town means to each photographer and this theme can be interpreted however each photographer wishes.

The age categories are 8 to 10 years, 11 to 16 years, 17 to 21 years and 22+ years old. The judging panel will be made up of University staff and external photography experts and the shortlisted entries will be posted on the university website and it will then be down to the public to vote for the winners. Voting will open in mid-May and will run until the end of June, when the winners will be announced.

Lucky winners will net £100 worth of photography vouchers and will also have their image displayed in the new Darlington campus building. Winners and their families will also be invited to the July opening of the new campus to see their work displayed.

Entries should be emailed to compdarlington@tees.ac.uk along with a description of where the photo has been taken, what it means to the photographer and a name, age, address and contact details.

Visit tees.ac.uk/photocomp or phone 01642-384273 for more information on the competition.