| | |
| --- | --- |
| Taylor Wessing Photographic Portrait winner | 9th Nov 2009 |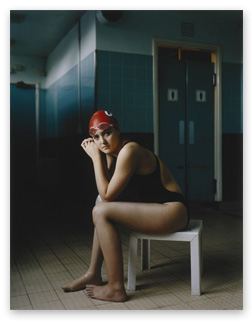 The winning image, taken by Paul Floyd Blake, features Rosie Bancroft, who is a hopeful for the 2012 Paralympic games. Bancroft is 13 and had her foot amputated when she was just a baby. She is now a successful swimmer and the image captures her youthful confidence and determination.

Blake used Victorian photographic technology to take the picture which shows Bancroft seated in a swimming pool changing room.

The photographer explained the context of the photograph: "Rosie was competing throughout the day and there was only a short window when I could take the picture. She had just swum a personal best in her event and I think that's why she has such a confident, self-assured look in the portrait."

Blake uses a 5x4 Wista field camera, which is a modern version of a Victorian plate camera. He says that to achieve the same effect with a digital camera, one would need to spend £20,000 on equipment.

The top photos from the 6,300 submitted will be on display at the NPG until 14 February, after which they will be shown at the Shipley gallery in Gateshead and the Walsall New Art Gallery.
If you'd like to enter compositions, get in control of your camera and shoot amazing images like this without spending £20,000 on equipment - try our Ultimate Beginners Course, come on a One-to-One photography course.