| | |
| --- | --- |
| "Our Stories" exhibition promotes understanding of mental health | 22nd Mar 2010 |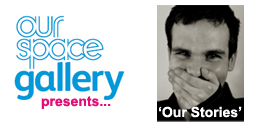 The Our Stories exhibition currently running at the Our Space Gallery in London aims to foster a better understanding of mental health issues.

The exhibition is a collection of sounds and photographs and has been organised by the mental health charity, Together. It includes a collection of approximately a dozen portraits of individuals suffering from mental health issues and self-portraits, by four photographers: Julia Sasse, Frida Bengtsson, Tom Medwell and Carmen Luvian.

Mostly monochromatic, the images have been described as a welcome contrast to the hyper-real colours with which we have now become familiar since the prevalence of digital photography.

Julia Sasse's photographs are composites, made by overlaying multiple exposures of her subject in different positions, giving the effect of a hologram, while Tom Medwell has opted for a style which makes his subjects appear slightly out of focus but give the images a very interesting and comtemporary feel. Frida Bengtsson's approach allows visitors to the exhibition to interact with and rearrange her photographs, while Carmen Luvian's work includes an emotionally revealing self-portrait.

The exhibit runs until April 26th at Our Space gallery in Old Street, London.