| | |
| --- | --- |
| Flickr photos to make money for users | 24th Jun 2010 |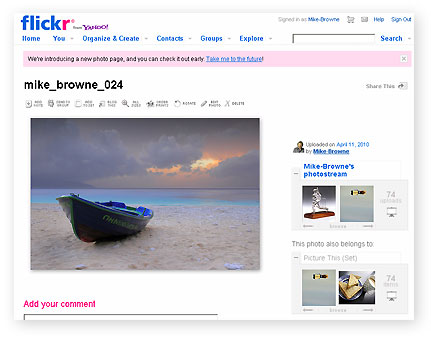 Flickr photo, the popular photo sharing website, has just announced a new licencing move which will allow users to charge for their images.

The site which is used for photo sharing by over 40 million people is set to give customers the opportunity to make money from the images they are uploading and sharing.
The suggested scheme will see a collaboration with Getty Images where certain images from the flickr site will be chosen.

The images will then be stored as part of the huge library of professional photographs on Getty Images.
This will in turn allow Flickr users to license their images and receive an industry standard fee.

Photos that are licenced under the new deal are expected to fetch in the region of $150-240 in fees. Anyone who wants to take part in the project can click 'Want to License' link on their uploaded photos.

"Flickr users are the eyes of the world. This deal broadens the horizons and the global marketplace for commercial photography, and gives our users a chance to make some money," described Douglas Alexander, general manager of Flickr.

The new service will be an extension of the 'Flickr Collection', a library of images by Flickr users already made available on the Getty site.
So - if you fancy making a couple of quid out of your pictures but don't quite know if you're up to standard, take a look at our photography courses downloads and One to One Photography Courses. They'll certainly help you start shooting the images you set out to shoot when you bought the camera - or your money back :-)