| | |
| --- | --- |
| Photography course project snapped up by advertisers | 12th Feb 2010 |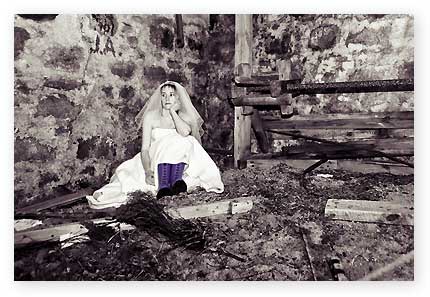 A mum-of-two who took a wedding photo with a difference during her commercial photography course has achieved an international commission for her image.

Karen Catto, a 34-year-old photographer from Aberdeen, bought a pair of Ilse Jacobsen designer wellington boots during a visit to Norway and went on to feature them in a piece of wedding photography with the theme "Trash the Dress".

When the shop in which she purchased the boots received some of the shots by email from the aspiring photographer's step-sister, they liked the photographs so much that they asked to buy the copyright for use in advertising.

"The theme of the original photo was 'Trash the Dress' and it was part of my practical project for the course," Karen explains, pointing out that the practical projects featured in her photography course give her the opportunity to "experiment" with her craft.

"It was really good fun and I am pleased with the results," she adds of the wedding photograph with a difference, which depicts the wellies being worn by a model wearing a wedding dress.

On the back of her exciting and hopefully lucrative commission, Karen says she's now hoping her photography course will enable her to take forward her own photography business.
If being paid to take pictures is something that floats your boat - but you'd like a little guidance. Take a look at our photography Course downloads or our Ultimate Beginners Course - they could be the next step for you.