| | |
| --- | --- |
| Pentax unveils smallest system camera | 26th Jun 2011 |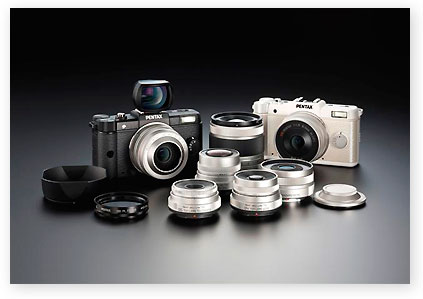 cameras are getting cleverer and cleverer - but you still need to know about light, composition etc and that's where our Ultimate Beginners Course can help!
Camera maker Pentax has unveiled its new model, the Pentax Q, which promises to be the smallest and lightest system camera in the world.

The model ­ which claims to be the lightest interchangeable lens system camera ­ features a 12.4-million-pixel, 1/2.3in, CMOS sensor and a 'Q' lens mount which boasts an outer diameter which is 6mm smaller than the existing K-mount.

Pentax released a statement about the camera which read, "The Q-mount system also eliminates an optical finder, mirror box, focusing plate and AF sensor."

The Pentax Q will be released onto the market in September this year, but pricing has yet to be confirmed. Alongside the camera's release, there will also be an optional external optical viewfinder to accompany it on sale too.

The mirrorless camera ­ which weighs just 180g (excluding memory card and battery weight) has a body made from super-light magnesium alloy.

Some of its best features include a cross-processing effect mode, a 3 inch resolution, new image processing engine, LCD monitor and five-frames-per-second shooting.

The Pentax Q will be available to buy in two colours, black and white.
Join us on...