| | |
| --- | --- |
| Panasonic launches hybrid camera DMC-FZ38 | 2nd Aug 2009 |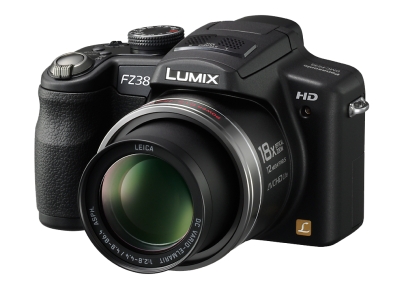 Panasonic has launched a new hybrid camera called the DMC-FZ38.

The point and shoot camera has a 27mm wide angle lens and 18x optical zoom along with a 12.1 megapixel sensor.

The camera also comes complete with Panasonic's Intelligent Auto Mode, which has been updated for the DMC-FZ38 and Power Optical Image Stabiliser, which offers double the protection against shakes than its former incarnation, the Mega Optical Image Stabiliser. This ensures fuzz-free shots even when heavily zoomed-in.

An enhanced version of face recognition is also included in this new model. The updated version allows users to enter name and ages for the people in the photos. They can also search under a name and view a slide show of images of that person.

The start-up time for the camera is just 1.2 seconds, which is a 20 per cent improvement on the previous model. Also quick is the shooting rate at 2.3 shots-per-second even at full 12.1 megapixel mode. It also offers 10 shots-per-second on the optional High Speed Burst mode.
Lumix (Panasonic) have a reputation for making excellent cameras, however all the different modes and settings can take a lot of setting up and understanding. If a camera such as this is left purly on automatic modes the user will never get the full benifit of the features this camera has to offer.
To fully exploit it's potential owners would certainly benefit from our Ultimate Beginners Course or even some one to one photography training.

Overall, this camera has been welcomed by the photography community, offering a compact point and shoot camera with additional features.