| | |
| --- | --- |
| Overview of Lanzarote Photography Workshop | 7th Feb 2021 |
The Lanzarote photography workshop is by far one of my absolute favourite destinations. The landscape offers so many creative opportunities and the attendees always find new things to photograph!
Last year threw a bit of a spanner in the works for travelling and I have been so excited to start thinking about workshops again. They are such a big part of what I do and I want to share with you why they're just a fantastic experience.
This blog is going to tell you everything you need to know about:
Lanzarote as a destination
What the photography workshop includes
The workshop experience and what past participants have to say
Lanzarote, Spain
Lanzarote is an island about 78 miles from the coast of North Africa. Part of the Canary Islands, Lanzarote has a really amenable climate all year round.
The island isn't massive, measuring only 37 miles from North to South and 16 miles from East to West.
This is one of the reasons it's such a great destination for photographers - with so much variation in scenery over an area easily covered, the opportunities truly are endless!
The next scheduled workshop (all being well) is set for October when the average temperature is a balmy 19 degrees celsius - not to be frowned at after a British winter!
Why choose Lanzarote for a photography workshop?
I chose Lanzarote because it has a unique black ash landscape which was used by astronauts for training before going to the moon. Hundreds of dormant volcanoes cover the south part of the island making majestic subjects in themselves, and terrific vantage points to shoot sunsets from.
Sunrise offers spectacular views of small white painted towns nestled against the rugged landscape with powerful, lowering skies hanging overhead. Plus the coast is a rugged, rocky place where Atlantic waves crash into the rocks. Perfect for slow shutter movement blur imagery.
Lanzarote photography workshop: what you need to know
Signing up for your first workshop can be daunting - here is some guidance to help you feel more informed about the Lanzarote photography workshop.
The workshop will help you:
Concentrate on seeing / finding images
Work on understanding light
Exploit focal lengths creatively
Explain how to find settings to achieve Your image
Go in depth with the photographers thought process
Who is the workshop for?
This workshop is for everyone.
All levels of photographer from beginner to experienced who want to have a photographic adventure are welcome.
Tuition and advice will be given on location so you'll learn loads, dedicate time to photography with like minded people and come home with hundreds of exciting images!
Where will we stay?
When we get to Lanzarote, we will be based in the quiet 'Old Port' area of Puerto del Carmen. It is on the east side of the island about 15 minutes by taxi from the airport in Arrecife.
Lanzarote is about 25 kilometres wide so all locations are in easy reach in our minibus.
We will be moving from location to location across the island according to light and weather conditions.
Accommodation isn't included so that you have the flexibility to choose where you'd like to stay and for how long.
What will I gain?
I will be coaching you on the use of histograms to control exposures to ensure maximum tonal range. This is vital when shooting high contrast situations like sunsets against the black landscape.
I will always be available to address individual needs as well. If you want to know something, ask and I'll be happy to help you.
Lanzarote presents unique opportunities for long exposure photography and landscapes. Besides a whole range of camera skills, using Neutral Density filters to blur movement of waves and clouds will be a part of this workshop.
We'll be working with available light in the landscape and planning locations for times when it's most appropriate for the scene.
Besides a boost in creative and technical skills, you will gain friendships with like-minded people who are alongside you for the ride!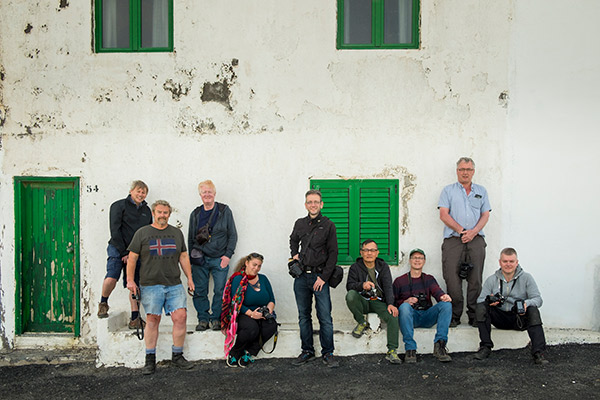 What people had to say about their Lanzarote photography workshop experience
I love Lanzarote as a location for a photography workshop because it is:
A beautiful location
Easy to get around
Full of shooting opportunities
Packed with hands on experience
A week long experience that doesn't break the bank
The photography workshop in Lanzarote has always been very popular, here is some of what people had to say;
Are you ready to have the experience of a lifetime?
The Lanzarote photography workshop is a great place to learn more about photography and have an amazing time on a stunning island!
If you have any questions about the workshop, get in touch - we're always here to help.