| | |
| --- | --- |
| Pentax launches new mid-range DSLR | 21st May 2009 |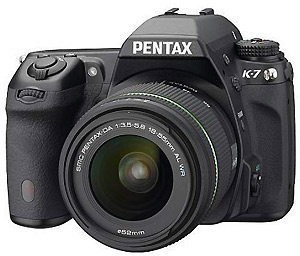 A new mid-range DSLR is being launched by Pentax in competition against the Nikon D5000 and the Canon 500D.

The Pentax K-7, although priced higher than either the Nikon or the Canon models, offers user-friendly features such as automatic horizon correction, video recording and high dynamic range.

Other features include high speed continuous shooting at a rate of 5.2 images per second, a 14.6 megapixel sensor and ISO 100 and ISO 6400 settings.
Users will also get Live View, 77 segment multi-pattern metering system, which improves light-metering accuracy and a video recording mode.

Pentax says it has improved the accuracy of exposure control through analysing various data types transmitted from the camera's sensors.

The camera's video recorder offers 1280 x 720 pixels at a rate of 30 frames per second for HD TV proportions.

However, the price of this new camera is unlikely to help it gain an edge over its competitor. The UK price for the Pentax K-7 is a staggering £1,199 for the body only - twice the price of it's competitors. And that's the rub!
Though I've not tested this camera personally - I don't see then need to spend so much money when there are other great cameras with proven track records for som much less money.
Taking great pictures isn't about spending loads of money - it's about technique. Why not save some money and go for a Nikon or Canon then spend some of your considerable change on some training?
If you don't know how to make a fuzzy background, stack a mountain range one on top of the other, find the right light and get clean sharp pictures every time you're on a hiding to nothing.
Our Ultimate Beginners Course will set you on the path to great imaging by cutting through the over technical hype and giving you the knowledge you need through practical exercises and demonstrations - all in everyday language.
Or if you're in the UK a one to one photography course will boost your abilities, clear up any confusion and get you shooting the pictures you hoped for.