| | |
| --- | --- |
| New affordable underwater camera is launched | 23rd Apr 2009 |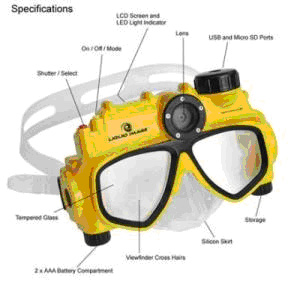 Taking pictures of marine life while diving and snorkelling is a real treat, with many amateur photographers eager to have a go at capturing magical underwater scenery. A new gadget offers an affordable solution for photographers that want to snap the fishes and coral when on holiday, a specific photography course or trip, or a diving expedition.

Traditionally, underwater cameras are expensive ­ prohibitively so for many, but the new Liquid Image Digital Camera Underwater Mask offers a convenient and affordable option.

It is more convenient because the camera is integrated into your snorkelling goggles, leaving your hands free to swim.

The 3.1 megapixel camera is mounted onto the mask, and the crosshairs on the lenses show the wearer where they have to look in order to get the perfect shot. This alleviates the need to concentrate on where to look in order to catch your shot and makes the entire picture-taking process as easy as possible, which is important because divers and snorkelers have many other things to think about and monitor.

The camera goggles have a 16mb memory, which can be increased with the use of a memory card. The camera can also shoot video of your snorkelling trip.