| | |
| --- | --- |
| Five tips for the best wedding photography | 3rd Jul 2009 |
Brides and grooms often stress about getting their wedding photography absolutely right and some do end up with disappointing results after what can seem like hours of posing and forcing continuous smiles.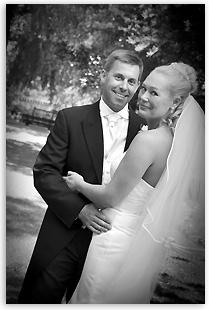 However, here are five tips that the happy couple should take on board to make sure they get the best pictures to suit their taste.

1. Couples should let the wedding photographer know the style of photography they want. Some people prefer a traditional style, with all the usual groups and poses, whereas others will prefer much more natural, candid shots. The photographer will not know the requirements unless unless couples are open and honest from the start.

2. Wedding couples should choose a photographer they'll be able to relax with and enjoy their day. The best pictures are often of natural happy expressions rather than smiles that are put-on for a posed snap.

3. The bride should go for matt make-up to avoid a shiny-looking complexion.

4. Couples should not be afraid to be affectionate. Any good wedding photographer will be ready and waiting to snap any natural moments of affection and these often make the best photographs. Brides and Grooms are often unaware that their tender moments have been caught on camera, but are delighted when they receive their pictures back.

5. Finally, wearing comfy shoes makes for much happier picture-posing!
If you're a photographer who's into wedding photography or wedding couple and a friend's taking your pictures - take a look at Wedding Photography Exposed which takes you through the human issues of wedding photography as well as the practicalities.
Are you going to be a guest at a wedding soon? Need some quick handy hints to improve your photography? Watch our Photography Videos for some great tips.
Photo by Mike Browne