| | |
| --- | --- |
| First presidential portrait using digital camera | 15th Jan 2009 |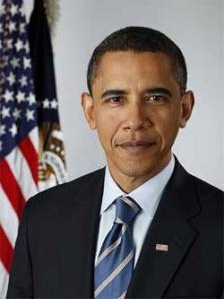 Barack Obama, the US president-elect, has achieved another 'first' in having his official presidential portrait taken with a digital camera.

New White House photographer, Pete Souza, used a Canon EOS 5D Mk11 model to take the era-defining picture, according to Obama's office.

The photograph was taken without a flash, at an ISO of 100 using a 105mm lens stopped to f/10 at a 1/125 exposure. The 21 megapixel camera has many high spec features including auto lighting optimizer, 3.9 frames per second continuous shooting, automatic LCD brightness adjustment and a 98% coverage viewfinder. It is reported to offer 'outstanding image quality.'

The Canon model also features optional WFT-E4 WiFi/LAN/USB vertigal grip, a 3" 920,000 dot LCD screen with a Clear View cover and it has a 1,800 mAh battery and enhanced battery information.

One of the major features of this camera is its high definition movie recording facility (Full HD 1080 resolution) with Live View and Live Face Detection. The camera was the first to provide this and it caused much excitement among internet technology bloggers and digital photographers when it launched in September 2008.

Mogens Jensen, of Canon Consumer Imaging, said: "The addition of HD movie recording opens a new chapter for EOS. It creates new possibilities for EOS photographers to capture and share their stories and to stay relevant in a rapidly changing digital landscape."

The camera is available priced at around £2,300.
If your dream is to get to this standard of photography and are just starting out, or getting yout first Digital SLR, professional photographer Mike Browne, who runs on-line and one-to-one training courses, has just announced the launch of his Masterclass in Photography, a guide for beginners and hobbyists looking to further their knowledge.