| | |
| --- | --- |
| Panasonic has unveiled its new digital system camera, promising it to be the world's lightest and smallest model. | 6th Dec 2010 |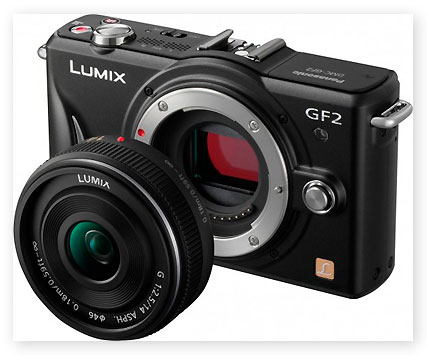 The Lumix DMC-GF2 digital system camera is almost 20 per cent smaller and seven per cent lighter than its predecessor, the Lumix DMC-GF1, which came out last year.

The newer 12.1-million model is so much lighter due to the mount unit being downsized and the number of internal parts being cut.

The GF2 will be available in three kit options as of January 2011, with Panasonic hoping it will appeal to the 'advanced user' and 'build on the success of the GF1 as the professional's compact camera system.'

The kit GF2 - with a 14-42mm lens - will cost £599.99, with the 14mm pancake lens model costing £629.99 and the 14-42mm and 14mm lens model,costing £729.99. The camera will not be available 'body-only.'

The GF2, which is available in red, black or silver, also boasts a 3 inch touchscreen (460,000-dot resolution) which enables manual touch adjustment of focusing and shutter speed.

The new pop-up mechanism on the camera's internal flash helps to prevent 'vignetting' ­ something which is created due to the small space between the flash and lens.

This sounds like it's going to be a great camera - we should be reviewing it soon so keep an eye on the Camera Reviews (found in the Photography Videos section of the main website). And if you need more help on using your new dslr then why not our downloadable beginners photography course - we've had some rave reviews...