| | |
| --- | --- |
| Photography exhibition aims to reveal the true Wales | 7th Jan 2011 |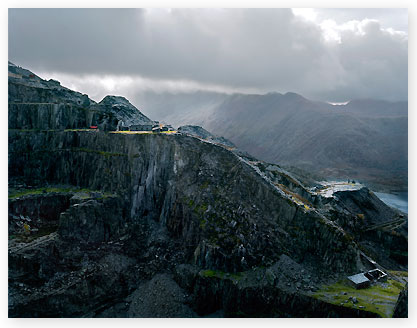 A new photography exhibition designed to smash the tourist clichés associated with Wales will launch on 12 January.

The exhibition, entitled, 'A Landscape of Wales,' will take a close look at the Welsh landscape in a bid to reveal the country's true identity.

Featuring some of the best images from award-winning photographer James Morris's book of the same name, the exhibition will look at the built environment as well as the natural one.

The Ceredigion-based photographer said he hoped that the exhibition would ensure that tourists looked beyond the image of Wales that was portrayed in photographs and postcards.

"What I was interested in was capturing the built environment, not just the picturesque countryside but the buildings and architecture," he said.

"Having been brought up in a Welsh family that didn't live in Wales, we would always just go to the more idyllic places such as the Pembrokeshire coast and Snowdonia; we went to the kind of places were the tourist board would want you to go," he said.

Morris said that what 'really intrigued him' was the parts of Wales the tourist board would not necessarily want people to see, such as the industrial towns.

A Landscape of Wales opens at Turner House in Penarth and the Pierhead Building in Cardiff Bay at 6pm on 12 January at 7pm, it will then move to Ffotogallery in Cardiff Bay.
Exhibitions are a great way to get ideas and inspiration and our photography videos, downloadable photography courses and One to One photography courses could be just the thing to help you shoot images you'll be proud to show off.
Perhaps you could do an exhibition of your own ...