| | |
| --- | --- |
| Caravaggio thought to have been early photographer | 12th Mar 2009 |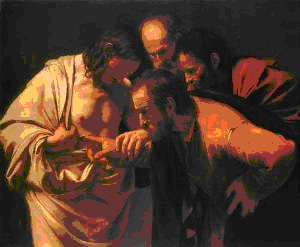 Celebrated 16th century Italian master, Caravaggio, may have been one of the earliest users of photographic techniques according to new research.

200 years before the camera was invented, Caravaggio is thought to have been applying mercury crystals to his canvases to 'fix' a projected image onto the surface, before he began painting. Italian artists and conservation expert, Roberta Lapucci, who made this discovery, says Caravaggio was displaying "techniques that are the basis of photography."

He was already known to have converted his studio into a darkroom and had made a hole in the roof to let targeted light in, like a camera obscura. It would have taken around half an hour for the image to fix to the light sensitive substances painted onto the canvas. He is thought to have included ground-up fire flies (commonly used in theatre lighting at the time) to enable him to see what he was applying to the canvas in the dark.

Lapucci says there is other evidence to support the find. "There is lots of proof, notably the fact that Caravaggio never made preliminary sketches. So it is plausible that he used these 'projections' to paint."