| | |
| --- | --- |
| Your beginners course gave me a much better understanding | 5th Oct 2018 |
From our feedback form
Masterclass in Photography has...
Given me confidence.
What are the differences before Masterclass in Photography & after?
Although not a complete beginner (always learning), I now have a much better understanding of the various non-auto functions, terminology, and the situations when to use them. Mike explains in detail throughout each week, followed by practical exercises for the user to complete. By doing the exercises the user can see the results and gain the skills. Also when talking to other photography enthusiasts whether friends, or in a camera shop, I personally feel more confident in the knowledge I have gained.
Is the course value for money?
Definitely, a small price to pay for gaining further knowledge / experience in this new found hobby. As Mike states throughout the course, practice is the key for advancing practical photography skills.
Would you recommend The Masterclass in Photography?
Yes, I would recommend the Masterclass in Photography Course for anyone wishing to progress their proficiency in photography.
David Rowley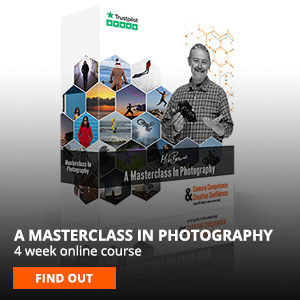 .