| | |
| --- | --- |
| Welsh student announced winner of Photographic Discovery Awards | 15th Dec 2008 |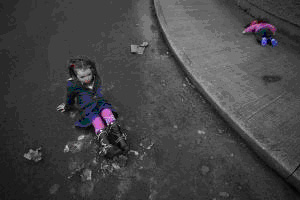 Welsh student Gina Brocker from University of Wales, Newport, has been crowned Grand Prize Winner at the Nikon Discovery Awards. Ms. Brocker beat 24 other students from around the UK and Ireland to win £5000 and a D300 camera kit.

The Nikon Discovery Awards were set up two years ago in association with British Journal of Photography. The concept is to seek out new UK photographic talent from Britain's universities.

Several big names in the photography industry were involved in judging the awards. They included Simon Bainbridge, Editor of the British Journal of Photography, and Dylan Martinez, chief photographer at Reuters News Pictures. The awards ceremony, which was held in London, was hosted by renowned photographer Alex Bailey, who is known for shooting big budget film photography. He has worked on several high profile films, such as The Other Boleyn Girl, Atonement and Bridget Jones's Diary.

Chris Hoare, Professional Business Manager at Nikon UK said: "Nikon has always been keen to support the student photographer market, which is echoed in our work with the Academy Colleges on projects such as the Discovery Awards.

"Initiatives such as this help to develop up and coming talent break through into the commercial world of professional photography, and benefits the industry as a whole."
If you're interested in exploring your untapped photographic talent, and want a clear and concise guide to getting the most out of your photography, have a look at the Masterclass in Photography from Mike Browne, professional photographer.