| | |
| --- | --- |
| Myanmar Workshop Images Raise Money For Charity | 10th Feb 2015 |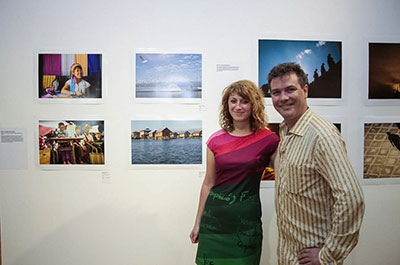 Photographers attending our 2014 Myanmar (Burma) travel photography workshop were invited to submit images for consideration in an exhibition at the prestigious Ion Art Gallery in Singapore.
Entitled 'Myanmar's Dreams', the exhibition highlights the culture, heritage and people of Myanmar. Print sales raise money for the Project Love Asia Foundation.
It's great to know we're having a blast doing photography whilst spreading some good back to the people of the region.
Photographer Marie Carabin, pictured above with co tutor Simon Taplin, not only had three images accepted and one sold (top left), she also flew from France to support the exhibition in person.
"Taking part in this photo workshop and the exhibition has been one of the best experiences of my life." Said Marie. "I have not only had an adventure and learnt how to take nice pictures, they are pictures that speak for myself, while doing something good for the local community."


Myanmar's Dreams Exhibition
Chris Underhill who lives in Phoenix USA had two of his images from the workshop exhibited as well. With only 100 images by just thirteen photographers selected, it's an amazing achievement for both Chris and Marie.
Simon and I are very proud of them - and to have played a part. Huge congratulations to both photographers.
Exhibition curator Jose Tay has extended the invitation to submit images to everyone who attends our 2015 Myanmar Travel Photography workshop as well.
So this is a fantastic opportunity for anyone who loves adventure, travel and photography to learn new skills and possibly have their work exhibited at a major event.
To see more of Marie and Chris's images please check out the gallery on the Myanmar Travel Photography Workshop page. Each image has the photographer's name clearly marked so you know whose it is.