| | |
| --- | --- |
| Photography competition launched by BPMA | 25th Jul 2011 |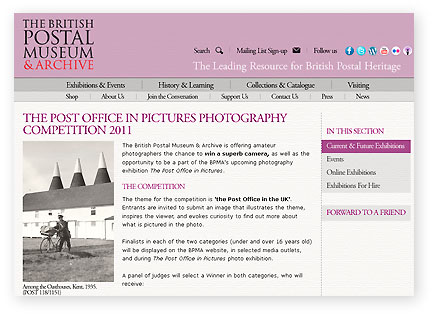 If you don't enter competitions because you don't feel your pictures are quite good enough - check out our Masterclass in Photography and have a bash at the competition below.

Amateur photographers have been invited to take part in a unique photography competition by the British Postal Museum and Archive (BPMA).

The BPMA is inviting photographers to submit their work on the theme 'the Post Office in the UK'. Inspiring images that illustrate the Post Office's work and invites the viewer to learn more are the ideal in this case.

Entrants will be split into over 16s and under 16s. A panel of judges will select a winner from each age category after all of the entries have been received by 5pm on 9 September this year.

In return for their efforts, the winning photographer from the younger category will be given a Nikon Coolpix P500, while the over 16 category winner will receive a Nikon D3100. These prizes are being donated by the Swindon-based retailer, Sight 2 Sound.

The event comes as the Post Modern in Swindon is preparing to host the Post Office in Pictures exhibition. It aims to display a more unusual image of the Post Office, including the daily deliveries to every corner of the country and a number of unexpected items that have been send through the post.
Stay in touch with us on...