| | |
| --- | --- |
| Practical Photoshop magazine to launch | 4th May 2011 |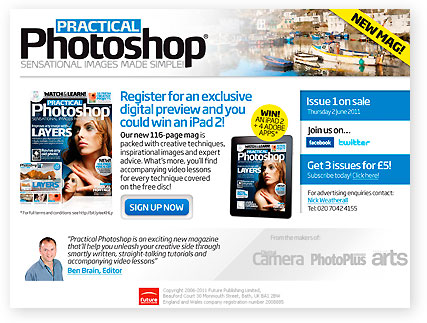 Our photography videos can teach you all about photography - and we're shooting videos about post production too. This new magazine could be a perfect accompaniment to our videos.
Publishing company Future has announced the launch of its latest specialist magazine, Practical Photoshop.

The monthly magazine is aimed at designers and photographers. It includes digital photography tutorials relating to the Adobe Photoshop software and provides practical information on creating better digital images.

The publication will launch on June 2 and each issue will include a disc featuring digital photography training and tutorials. There are video lessons, step-by-step guides, Q & As, tips reader challenges and more.

Editor Ben Brain commented, "Practical Photoshop's smartly written, straight-talking tutorials with accompanying video lessons will empower readers to unleash their creativity. As well as simplifying the challenges of post-processing and image manipulation, we will inspire our readers by showcasing stunning images in our galleries."

Group Publisher Matt Pierce added, "Practical Photoshop is a natural fit for our Digital Creative portfolio. Our research showed clear consumer appetite for a bigger, better title that helps photographers and creative computer users get more from their favourite software.

Future already publishes a range of related titles such as Digital Camera, Computer Arts and ImagineFX . It also runs a very popular online photography contest, Digital Camera's Photographer of the Year.