| | |
| --- | --- |
| Top photographer gives tips on urban architecture | 27th Sep 2010 |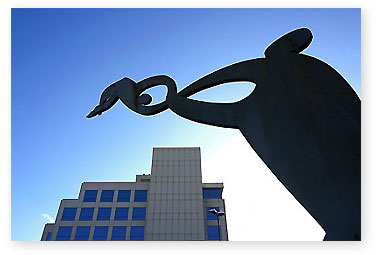 A leading technical photographer has been giving tips on how best to photograph architecture and the built environment.

Alicia Canter took to the Guardian newspaper's Camera Club forum to make a few pointers of on how to turn the dry lines of modern buildings into something altogether more exciting.

She said much consideration should be given to the choice of location: if a photographer doesn't already have somewhere in mind then seeking out somewhere should not be difficult or conspicuous.

"Shoot places that you know or check out what you might have access to," she said. "Don't be afraid to ask neighbours if they have a fantastic view or interesting home."

Identifying the potential features and points of interest can be done in an initial quick scan, keeping an eye out for patterns and "strong shapes" in the architecture.

"These are the elements that hold a picture together," she explained. "Think about the windows and doors of homes on a street, or the repeat pattern in roofs and brickwork."

Timing, she continued, was crucial to the whole project, whether it involved the time of day and subsequent lighting, how long it might take to complete a shot or how many pictures are wanted for a particular series.
The image above is from our Beginners Photography Course download - so if you'd like to brush up on your skills take a look at our downloadable photography courses and the new photography videos section too.